With Halloween being soon, it's hard not to think about spooky things,,,,,,,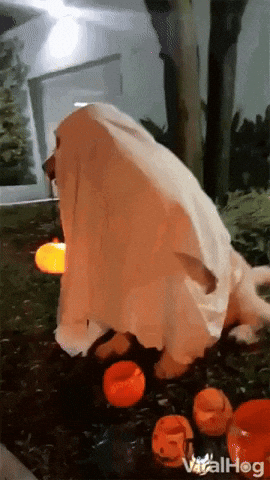 ........like a doggy ghost
In all seriousness, this time of year is a great time to reflect on those spooky figurines in your miniature collection!
When my clients come into my play therapy office and see my creepy figures, they usually have 3 different reactions:
"AHHH!!! Why do you have those?!"

"Ooooooo!! These are awesome! Why do you have those?!"

"Those are weird. Why do you have those?"
So why do you even need creepy, spooky, uncomfortable figurines in our play therapy office?
Because life can be creepy, spooky, and uncomfortable sometimes!
It's important for children to have the right tools (toys/figurines/miniatures) in order for them to work through those tough situations!
(although it can be done...) the play would not have the same feel if they were done with rainbows and butterflies versus skulls and swords.
These miniatures can be the key in in helping kids work through the themes of grief, loss, anger, trauma, fear, anxiety, and so so so much more!
Curious as to what I mean about "themes?" Check out my post on the 15 most popular themes in child therapy
So let's get into my favorite spooky miniatures to have in your sandtray!
Creepy Lady
A creepy lady, man, or individual is a need in a sandtray miniature collection!
In play, a creepy person can transform into a witch, wizard, "bad guy" (or girl!), or evil villain. Many clients even use this figure as just a regular old person! The imagination is an amazing thing!
3 headed dog
This 3 headed dog is one of my most popular miniatures in my sandtray collection!
This dog has been used within the themes of power and control, fears, anxiety, and death and loss.
The 3 headed dog can also be a great way to help children explore the CBT cognitive triad of thoughts, feelings, and behaviors!
Cage
One thing that I love about play therapy and sandtray work is how creative kids and therapists can be!
This "cage" was originally used as a tea light holder. Today, it makes the PERFECT cage and place of containment in my play therapy office!
Skeleton
A skeleton is a must have for any growing sand tray miniature collection!
Skeleton's can be a great tool to help children explore themes of grief and loss, fears and anxiety, and so much more!
Dead Trees
Just like how there should be alive and thriving foliage in your sand tray miniature collection, there should be some dead shrubbery as well! (especially for where I am in Upstate New York!)
Dead (or dying) trees or aspects of nature can help represent grief and loss, transitions, and even just the change in the weather!
Creepy Crawlies
These creepy crawlies (snakes, spiders, ants....) were the first spooky addition to my sand tray miniature collection and the top thing I would recommend adding to your collection from this list!
Creepy crawlies can help represent fears, anxieties, trauma, loss, grief, power and control, self-esteem, and so much more!
The best part about these creepy crawlies? You can find a whole bag of them at the dollar store! Talk about a great deal for a great tool in your play room!
Until next time, Play On!
Do you have the therapeutic skills but not the business know how to start a private practice? (because who is even taught the business side of therapy in graduate school?!?) Contact me today to discuss business coaching options!